Key Messages
Ovarian cysts are common and many resolve spontaneously
Most cysts are benign but its important to consider the possibility of cancerous change
Most cysts (even large ones) that are benign can be safely treated by laparoscopic (keyhole) surgery
Symptoms of Ovarian Cysts
Pelvic pain
Pain during sex
Bloating and discomfort
Needing to pass urine more often
Discomfort during bowel motion
Examples of types of Ovarian Cysts
Functional cysts – these are the normal cysts that form as part of the process of making and releasing an egg. They are normally less than 3cm and typically do not cause symptoms or need treatment. These cysts can cause pain if they rupture or have bleeding into themselves. Less commonly they can grow larger than normal and require surgery. Functional cysts are much less common in women using the combined pill for contraception.
Dermoid cysts – these are relatively common cysts that often do not cause symptoms unless they get quite large. They have very typical features on ultrasound and often contain different tissue types eg hair and teeth. Surgery is usually recommended but depends on size as small cysts (less than 3cm) can be safely observed.
Endometriomas – women with endometriosis of the ovaries can result in a 'chocolate' cyst (so called as the cyst is filled with old blood which looks like melted chocolate).
Other benign cysts form because of production of fluid or mucus within the ovary and almost always need treatment as they tend to grow over time and never spontaneously resolve.
Malignant (cancerous cysts).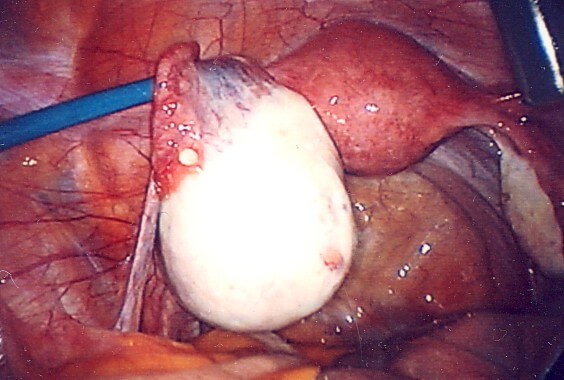 Diagnosis
Pelvic ultrasound is the most important test but in some cases other types of imaging such as MRI or CT scan may be necessary
Blood tests to measure tumour markers such as Ca125 (this is a protein released by certain types of cysts).
Request an appointment
Clinics are three times a week and Gail will help you arrange a time to see Mr Miskry and if necessary a scan on the same day.
If you are pregnant, you can expect to have a number of routine tests and appointments and you can find out more about the schedule of care here.
Appointments can be arranged by phone or email.
What our patients say about us
thank you so much for the fantastic care both before, during and after Alice's birth…we felt in extremely safe and capable hands at the time of her delivery, which was a huge relief. Many, many thanks for your skill and dedication
thank you for your care, advice and skilful surgery
you were so reassuring and I really appreciate how patient you were with me always…you made everything so easy
thank you so much for the medical expertise and all the care you have given us over the last 6 years
thank you for all of your support, patience, good humour and, above all, exceptional knowledge and skill during the pregnancies and births of our children
a heartfelt thank you for everything you've done…and delivering our precious baby safely. We found you to be extremely professional, caring and reassuring at an extremely difficult time for us
we will always appreciate the great care and support you have given us through all our pregnancies
this was a very difficult time for us, often filled with anxiety and worry and we could not have wished for a better obstetrician to guide us through this
I couldn't have asked for a better surgeon
thank you so much! From my first appointment with you to the last you filled me with confidence and made me feel at ease
FAQs
These are some of our most commonly asked questions, but you can see all of them here
Do I need a GP referral for private treatment?
No. However if you have private medical insurance please check with your insurer as they may require a GP referral in order to provide cover.
Where does Mr Miskry see patients?
All clinics are held at 148 Harley Street.
Where does Mr Miskry perform operations?
The Lindo Wing, St Mary's Hospital and King Edward VII's Hospital.
If I have a private consultation will this alter my care in the NHS?
No. Your treatment or position on an NHS waiting list will not be affected by having had a private consultation/surgery.
Are tests included in my consultation fee?
Any tests Mr Miskry recommends as part of your care are payable directly to the clinic/lab/hospital where they are carried out and are not part of our fees.